Selection Procedure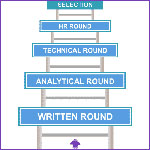 Guru Placement Division has gained a competitive edge in the Recruitment industry mainly because of its carefully-structured selection procedure, through which only the best possible candidates get selected. Our selection procedure comprises of the following steps:

In-Depth Interview
The goal in this interview is to define what role and company you may be seeking. We discuss your current situation and future objectives and offer realistic advice. This is scheduled as per your convenience.

Client Presentation
We will contact you when we have a possible opportunity match in terms of: role, company culture, travel, technology, growth and compensation. At this point, a mutual decision may be made to move forward. Your credentials are never sent to any company without your expressed permission.

Candidate Presentation
When the resume is submitted, the hiring manager and our professional consultants have a detailed conversation regarding fit, strengths, and possible concerns. We schedule all phone screens/ interviews with both parties when it is mutually convenient.

Interview Prep. and Feedback
Prior to the interview, the candidate and our consultant have another detailed discussion clarifying the opportunity and company. After the interview, we will gather feedback from the candidate and client̢۪s company.

Offers
We negotiate all offers and counsel both parties to arrive at mutually satisfying conclusions. We also counsel the candidate on resignation concerns and counteroffers. We have the highest interview-to-offer ratios with our client companies. By specializing in the IT, Telecom and Internet/ E-Commerce world, we are a world-class resource to our candidates and client companies.We have actual specialization in like banking, BPO, Retail and Hospitality.